Spring 2024 Course Enrollment opens December 18, 2023 and goes until  January 19, 2024. You cannot enroll in courses before this window. You must complete Step 5- Complete To Do List Items in Buckeyelink before enrolling. We cannot process late enrollments.
Note: First day of classes is one week before end of Program 60 Enrollment. It is ok to miss classes, just communicate with instructors
You also must be an admitted participant with an active Ohio State username (lastname.#) before this step can be completed.
Program 60 participants may enroll in undergraduate, graduate-level and distance learning online courses for audit on an instructor-permission, space-available basis.
---
Enrollment in courses through the university registration system gives you access to course content in CarmenCanvas. Your courses will appear as "audit" status on your university transcript, and instructors will receive an informational email regarding course participation.
For courses without prerequisites, you may self enroll into the courses. (See "To enroll in courses without prerequisites" below for instructions). *You must still contact the instructor to discuss your expected participation as a Program 60 participant.
For courses with prerequisites, follow the steps under Instructor Permission (Enrolling in courses with prerequisites) below.
You will receive a notice from Program 60 once we receive permission from the instructor to enroll you into a course.​
​Once we complete your enrollment, you will receive a confirmation from Program 60 of your enrollment.
To find your registration enrollment appointment:
Go to buckeyelink.osu.edu
Select My Buckeye Link under Quick Links
Log in with your Ohio State username (lastname.#) and password
Select Details under the Enrollment Information heading
Select the appropriate term and click Continue
Note the time your registration enrollment appointment opens
To enroll in courses without prerequisites:
Go to buckeyelink.osu.edu
Select My Buckeye Link under Quick Links
Log in with your Ohio State username (lastname.#) and password
Select Add a Class under the Academics heading
Select the semester in which you wish to enroll
Enter the class number in the Enter Class Nbr field and click enter
Select the checkbox for "Wait list if class is full" 
Once added, select Proceed to Step 2 of 3
Confirm course information and select Finish Enrolling if correct
Review completed course enrollment and repeat as necessary
Complete the Program 60 Enrollment Request Form to secure instructor permission for your course enrollment. Details on this form are below.
Request Instructor Enrollment Permission/Approval
Required for ALL course enrollments
Written instructor permission is required for all Program 60 course enrollments. Permission is requested by filling out the Program 60 Enrollment Request Form. This form sends your enrollment request to the Program 60 team and to the instructor. When the instructor responds, it goes directly to the Program 60 Team. You will not receive a response from the instructor, but you will receive a notice from Program 60. You must fill out the form for each course you wish to take that requires instructor permission. During the enrollment period, if we receive your permission, our team will enroll you into the selected courses. You will not be able to enroll yourself. 
Before you get started, you will need to know your Ohio State username (lastname.#) and the following information which can be found in My Buckeye Link:
Subject/Department
Course number (no dashes or spaces)
Class number
Recitation and/or Lab class number, if applicable
Instructor's email address (Enter the instructor's name into the Search Ohio State directory to find this information.)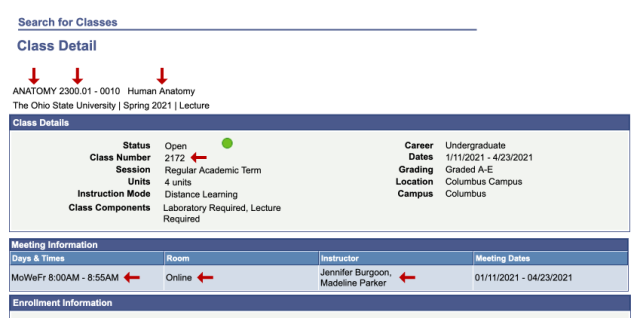 Graduate and Professional Program Courses
Please use the Program 60 Enrollment Request Form to request instructor permission.

Note: After the instructor approves your enrollment request, the Program 60 coordinator must request permission from the Graduate school and Professional Programs including:
Graduate level courses (some 5000 level courses, all 6000 level and above)
Dentistry
Health & Wellness Innovation in Healthcare
Medicine
Nursing (Grad)
Optometry
Pharmacy 
Veterinary Medicine
Public Health (Grad)
If there is space and the request is approved by the instructor AND the Graduate or Professional Representative, we will enroll you in class.
Class Participation 
The level of participation for Program 60 participants varies based on expectations set forth by both the instructor and the participant. Please be sure to have a conversation with your instructor regarding the expected participation level prior to, or during, the first week of classes. The exceptions are foreign language courses which typically require full participation by the Program 60 participant to maintain a consistent level of knowledge in the classroom.